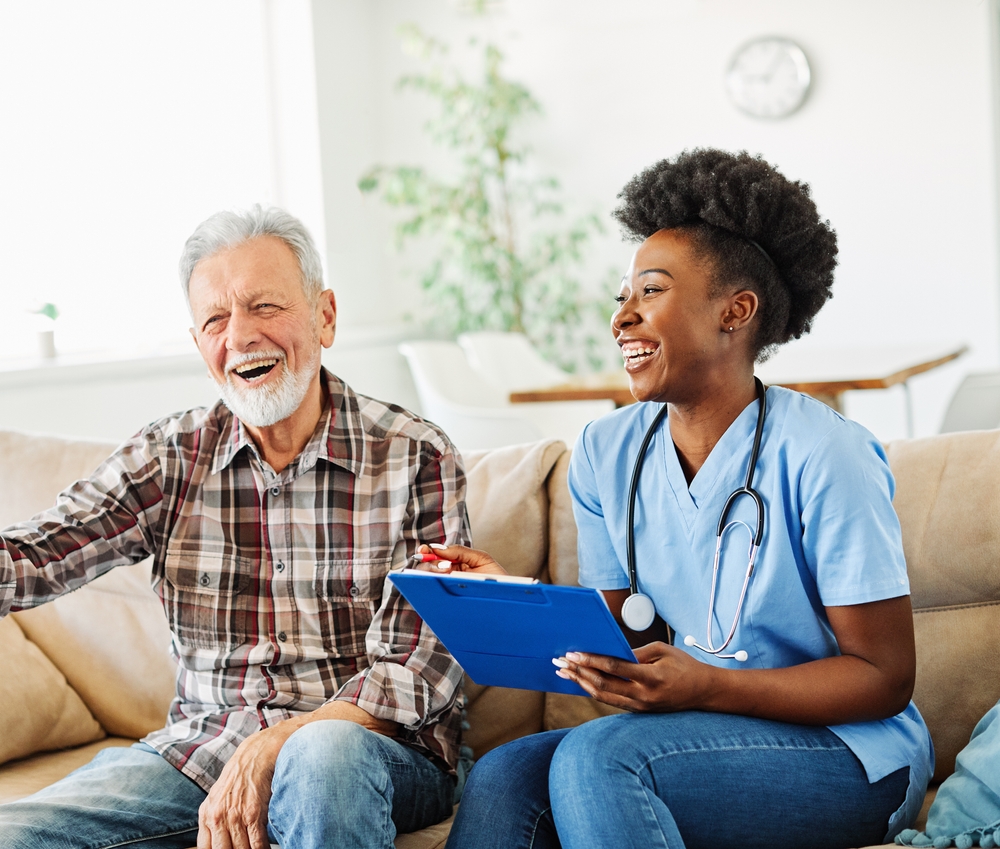 How the Neighborhood Model in Memory Care Gives Seniors Higher-Quality, Self-Directed Lives
June 1, 2022
It can be tough finding the right dementia-friendly community for your loved one. It can be even tougher to find the right type of style of memory care that will fit their unique needs. Ordinary senior living communities may not be the most accommodating with their style of care. 
The neighborhood model of memory care is a dementia-friendly style of care that emphasizes community and empowers seniors with dementia to live self-directed lives.  
What is the Neighborhood Model?
Memory care neighborhoods usually have smaller-scale settings that have 10-14 private bedrooms that surround shared living areas. They are designed to feel like home and offer extra elements of independence. Shared spaces have features to provide a sense of safety, and are staffed with specially trained team members to help people with dementia or Alzheimer's disease. 
Benefits of a Dementia-Friendly Design in Memory Care
Neighborhood model communities have a number of design elements to make life easier for their community members. When communities are designed to be dementia-friendly, they provide specific features and benefits:
Surroundings designed to provide a sense of familiarity

: Memory care neighborhoods are designed to feel recognizable and familiar to their seniors. Being able to recognize their surroundings helps people with dementia and Alzheimer's disease feel less anxious. This also aids in their ability to create individual routines for themselves. 
Environments that minimize overstimulation

: Relocating to a new living environment can cause a lot of stress. The layout of Lakewood is designed to be clear and direct for our residents to get around easily without being overstimulated by their surroundings. Memory care neighborhoods also have more intimate settings that are quieter than standard assisted living homes. These smaller, quieter spaces are less overwhelming for people with dementia.

A foundation for increased socialization and social support

: Regular socialization is important for everyone, especially for seniors receiving dementia care. Socialization

has been shown

to minimize one's sense of loneliness, isolation and stress while improving one's sense of self-worth. Memory care neighborhoods are designed to foster socialization between community members. Team members at Lakewood are also trained to help facilitate conversations between seniors, so they can build up their confidence in social situations.
Lets seniors live self-directed lives:

Seniors are able to create their own routines. They get up in the morning when they want to, decide if they want to eat alone or with a group of people, and get to decide what activities they are going to fill out their day with. While they are still able to receive care if needed, having the freedom to make decisions on how their day unfolds supports their needs as they age and provides a sense of dignity. 
Outdoor spaces give extra independence

: Accessible outdoor spaces have a number of benefits for those with dementia or Alzheimer's. Time spent outdoors can lower stress levels, reduce anxiety and provide essential vitamin D. Lakewood community members are able to enjoy our beautiful gardens when accompanied by a family or team member. 
The Cornerstone Memory Care Program at Lakewood
The Cornerstone Memory Care program at Lakewood focuses on residents and the rhythms of their day. Our specially trained staff includes team members that are certified dementia specialists who know how to treat your loved one with dignity and respect.
Lakewood has a partnership with the It's Never 2 Late® (iN2L) software program, which provides seniors  with enriching activities that can be tailored to each individual's abilities and interests. This unique program supports intellectual, spiritual, physical, emotional and social well-being that truly makes a difference in our seniors' lives. 
In addition to the iN2L program, our memory care residents receive chef-prepared meals, and housekeeping service and have access to onsite physical, speech and occupational therapies if needed. Each resident is also given a pendant they can use to call one of our licensed nurses in case of an emergency. Our memory care neighborhood is able to provide in-depth, personalized care in a home-like setting.
If you'd like to learn more about the Cornerstone Memory Care program, contact us today.