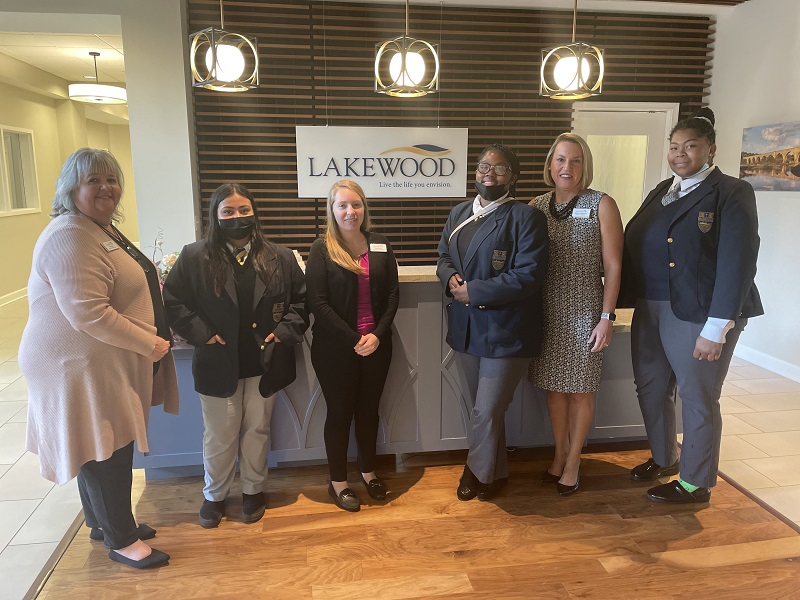 Three Richmond Teens Conclude Work Study Program at Lakewood
June 21, 2022
Culminating 10 months of hard work, three Cristo Rey Richmond High School tenth grade students presented what they learned during their corporate work study program at Lakewood. On June 9, Amya, Valerie and Nijahne shared their experiences with the Lakewood and LifeSpire leadership teams to mark the end of their time in the community.
"The experience was really good. I loved it," said Amya. "The residents are really nice, and they love to talk. If I started a conversation with them, I had to make sure I had time, so I wasn't late to another meeting."
Amya worked in the marketing department while Valerie spent her time in administration and Nijahne assisted human resources. While each of the students worked in different departments, they each agreed the residents and fellow team members made the experience worthwhile for them.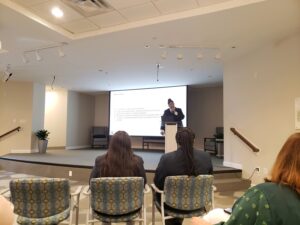 "Everyone is so welcoming, no one pushed you away. I had a chance to talk to everyone," Valerie said. "You don't always get a chance to go somewhere where everyone you meet is positive, so it was nice coming into that different environment."
"My favorite part was meeting the ladies I worked with," Amya said. "They're all moms and they all took me under their wings as if I was their own. They helped guide me on different things and just generally what you should do in the workplace."
The work study program is all part of a partnership between LifeSpire and Cristo Rey—a Catholic learning community that educates young people of limited economic means to become men and women of faith, purpose and service. The partnership allowed Lakewood to employ students from the school. Through a rigorous college preparatory curriculum, integrated with a relevant work study experience, students will graduate ready to succeed in college and in life.
"I really don't know what I want to do in the future just yet, but I know it has to do with helping people," Nijahne said. "Working here I felt like this was an actual job that I could do for the rest of my life, so I thought maybe I might want to work here one day."
Amya agreed that the work study program shaped her future goals while Valerie said the program taught her life lessons she'll be able to use in the future.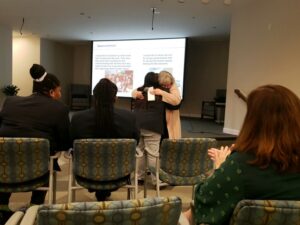 "I know I want to get my MBA, but I didn't know what business I wanted to go into. So, seeing marketing was a little real estate and a little interior design. It was a lot, but I now have a clue of what I want to do," said Amya.
"I would say I learned how to be patient because some of the stuff that I did was really time-consuming and tedious. Being patient got me through it," Valerie explained. "I really just want to be successful. I don't have my mind set on one thing in the future, but I just want to work in the healthcare field because I really do enjoy helping people, especially those in need."
Each of the students was given a laptop to use during the work study program. As a token of appreciation for their contributions, LifeSpire gifted each of the students the computers as a parting gift.
Reading more about Lakewood's partnership with Cristo Rey in the upcoming September issue of Community Matters.