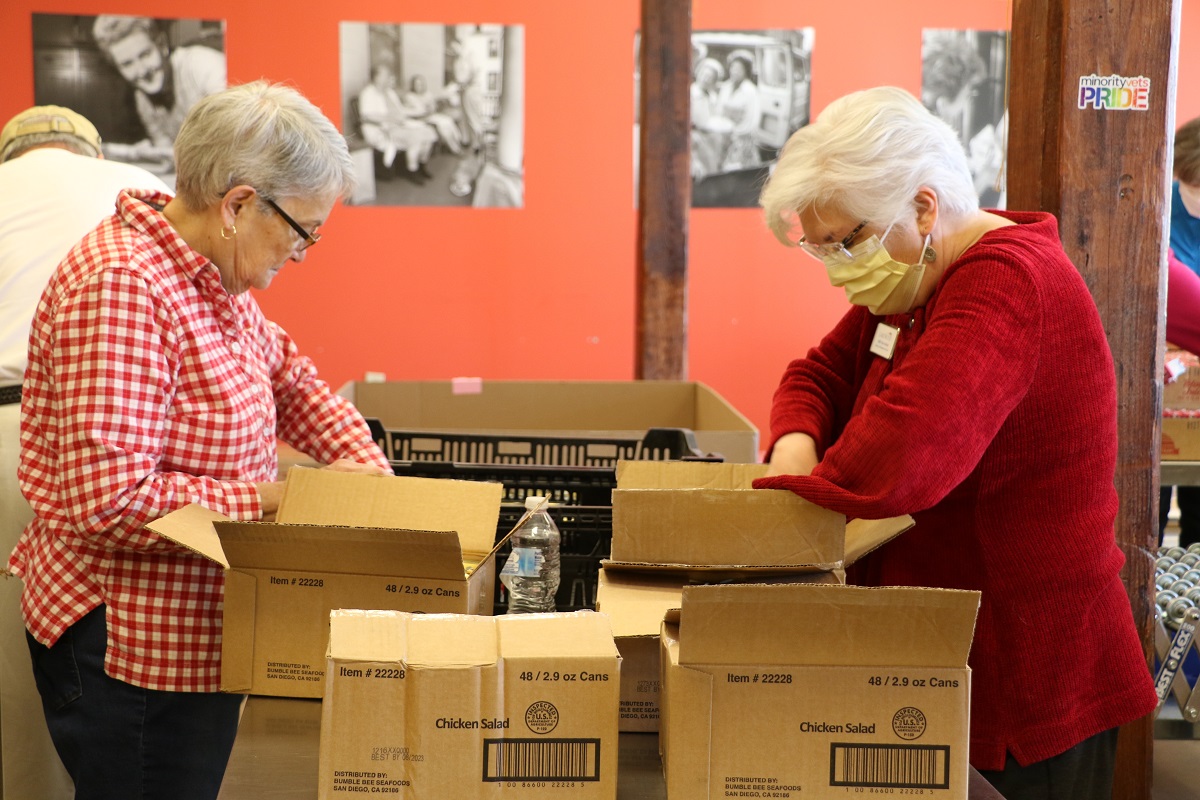 Lakewood Volunteers to Help Feed Those in Need
March 8, 2022
On March 1, Jim and Cheryl Rothschild spent the morning packing boxes at FeedMore for distribution through Meals on Wheels. This program provides fresh, diet-specific, made-from-scratch meals to homebound seniors and disabled neighbors.
"It was a very congenial group, and we had a lot of fun really while we were doing our work," Jim said. "I had shoulder surgery on both shoulders 18 months ago and the movement of filling those boxes was good for me."
So good, in fact, that he and his wife returned on March 8 for another round of volunteering. Each day, the couple joined more than a dozen Lakewood residents and team members to give back to the community.
"There's always a need, and there are a lot of people who can't give time. They can give food products or money, but the hands-on work of putting things together for distribution was a place that we had time to give where others might not."
Joan Kerby agreed. She said she wanted to do something to help others, especially children. She got her wish. On Tuesdays, volunteers at FeedMore assist with the backpack program, which ensures local elementary, middle, and high school students who qualify for free or reduced lunch have food over the weekend.
"We've been so restricted in what we could do, so I was just really excited to come out and do something that would help other people," Joan said. "We need to give back in life because we've had so many blessings in our own life. We don't have to worry about what we're going to eat. Giving back to others is just what you should do in life."
Jessica Smith, FeedMore's volunteer coordinator for children's programs, said the organization wouldn't be able to provide services to those in need without volunteers.
"Right now, we are serving about 50 schools. On average, we're doing 1200-1400 backpacks per week, so when we have large groups like this from Lakewood, we can do a lot at once," Jessica said. "These volunteers are going to pack 1,000 bags in just a few hours, and we are very grateful that we have volunteers who are willing to do this."
On Thursday, a different group of volunteers will deliver the bags packed by the Lakewood group to those 50 schools for distribution. Jessica said the food items are placed in the students' backpacks before heading home on Friday afternoons.
"I'm just happy the Lakewood group is here. I really appreciate the hard work," Jessica said.
Lakewood's Community Outreach Liaison Sally San Soucie organized the three-week volunteer opportunity. When the community brainstormed ideas for local outreach, she said that FeedMore was at the top of the list.
"Our residents have a lot of heart; they're helping people," Sally said. "Many of our residents give back a lot on their own, and I think the idea of doing this as a Lakewood family—team members and residents together—makes it more special."
Another group of volunteers will work at FeedMore on March 15 from 1–4 p.m. Resident Walter Smith encourages anyone to take advantage of the opportunity.
"The community has helped us in various ways, and sometimes you don't realize it. But we've got time now to offer our time, which is valuable, and we can be of aid to other areas," Walter said.
Any resident or team member interested in participating can reach out to Sally via email at [email protected] or by phone at 804-521-9152.